It's the first day of Prophecy Week at the Bethel School of Supernatural Ministry. Or, as students here like to call the place, Christian Hogwarts.
Above: First-year Bethel School of Supernatural Ministry students during a worship service at the Civic Auditorium in Redding, California, Sept. 14, 2017.
The auditorium of the civic center in Redding, California, where first-year students have class, is so full of eager, neatly dressed young people that it's initially impossible to find a seat. The roomful of some 1,200 students hums with expectant energy: People talk in clusters, clutching their books to their chests and stealing eager glances at the stage. There are so many languages spoken here it's hard to keep track: English of all flavors, spoken with Australian and British and South African accents; Chinese; Korean; Portuguese. It's a strange medley for a place like Redding, an economically depressed rural outpost about 200 miles north of San Francisco, in the heart of Northern California's Trump country.
The students are waiting for today's lecturer, Kris Vallotton, one of the school's founders and a prophet so prolific he literally wrote the book on it — Basic Training for the Prophetic Ministry, a combined textbook and workbook used by Bethel students to learn how to hear, and speak, God's words. ("Name the five things that distinguish a false prophet from a true prophet." "What is the difference between a vision and a trance?")
The basic theological premise of the School of Supernatural Ministry is this: that the miracles of biblical times — the parted seas and burning bushes and water into wine — did not end in biblical times, and the miracle workers did not die out with Jesus's earliest disciples. In the modern day, prophets and healers don't just walk among us, they are us.
To Bethel students, learning, seeing, and performing these "signs and wonders" — be it prophesying about things to come or healing the incurable — aren't just quirks or side projects of Christianity. They are, in fact, its very center.
In the modern day, prophets and healers don't just walk among us, they are us.
So far, Bethel's first-years have been learning the stories of their predecessors, ancient Old Testament prophets like Daniel and Jeremiah and Ezekiel, in preparation for today — the day they begin to become prophets themselves.
They have already begun, tentatively, to learn Bethel's other trade: faith healing. I'm sitting on the edge of the room, notebook in my lap, when a thin, sandy-haired young man comes up to me with a wide smile.
"Excuse me," he says, and tells me his name. "Would you mind if I prayed for healing?"
He's looking, pointedly, at my right knee, which is at the moment bound in a thick and very noticeable black brace. "Sure," I say, because there's not really another answer in this kind of situation.
Still smiling, he kneels in front of me and lays his hands on my knee, fingers on the gap in my brace where my kneecap is visible. He begins to softly intone a prayer: Lord, please bring healing to her knee. Complete and total healing, Father.
When he finishes, he stands up. "Thanks," he says. "I'm practicing. Do you … do you want to test it out?"
I'm racking my brain for an excuse not to when the girl next to me, a Bethel student who is coincidentally wearing a brace on her wrist, offers her arm up to him. "You can do me too," she says, and the kid lights up.
"Thanks," he says, sheepishly, and kneels again in front of her, fingers gently encircling her wrist.
The room erupts in applause: Kris Vallotton is walking onto the stage. He's a little portly, with salt-and-pepper hair, a graying beard, and an infectious energy. His preaching style toggles between genuinely funny jokes and sincere stories. "Welcome to Prophecy Week," he says, and the students roar.
The Bethel School of Supernatural Ministry is at the forefront of a burgeoning — and decidedly youthful — evangelical Christian revival. Some have called its movement the fastest-growing religious group in America — a loose network of churches, led by so-called apostles, who see supernatural gifts like prophecy and faith healing as the key to global conversion. While other religious movements struggle to retain members and draw in young people, Bethel attracts millennials in droves.
The school — which is unaccredited and does not confer degrees — sends students into Redding and across the globe armed with training in how to speak God's words, heal the sick, and use the supernatural to win souls. It has spawned imitators across the country and on nearly every continent.
But BSSM is also at the crux of a conflict brewing in the small, isolated city of Redding, population 90,000. On one side is the church that runs the school, Bethel Redding, which has more than 9,000 in its congregation — its own little city on a hill. On the other side is a group of longtime Redding residents, religious and nonreligious alike, who are afraid and even angry about the growing influence of this church in their city and their lives.
As it grows rapidly, Bethel has devoted itself to fixing the struggling city of Redding, which is one of California's poorest. It donates money to the police department. It buys out public buildings. It nurtures local businesses. It sends armies of students to clean the city's trash- and syringe-strewn riverbanks. To the church's leaders, Redding and Bethel are inextricable, and the city's rebirth is one of the church's most urgent missions.
But to some Redding residents, this is a threat. They see Bethel insinuating itself into every piece of Redding — politics, real estate, schools — and, in the process, altering the very fabric of their city. The church's opponents have begun to stage protests, pressure local officials, and badger the press to expose the church. Daily, on Facebook, they catalog the infiltration of Bethel into Redding: "Bethel-owned" businesses, Bethel-sponsored events.
In Redding, BSSM's students — some call them "Bethelbots" — are everywhere. For school assignments, students hang out in parking lots and grocery store aisles, asking strangers who use wheelchairs or crutches if they can pray for them to heal. On Thursday nights, the budding prophets gather to listen for God's voice, then set off on "treasure hunts" to prophesy for people who match the description God has given them — whole crews of students scouring the local megastore for a man in a yellow shirt one night, a woman with three children and a purple backpack the next. After Friday night church services, they flood the local pizza place with frenzied devotions they call "fire tunnels." They film themselves trying to raise the dead and post the footage on YouTube.
Redding residents' worries are as fundamental as the Constitution. Bethel, they say, is steadily eroding the separation of church and state — and doing it at the time their city is at its most vulnerable. There is strong evidence, they say, that Bethel is using its size and money to exert influence on their government, their neighbors, their children.
Many of Bethel's most outspoken critics are evangelical Christians who are deeply troubled by Bethel's theology. They're the kind of people who would normally mind their own business. But by now, Bethel and the School of Supernatural Ministry have grown so huge that they are inescapable. Bethel is everywhere: on the city council, behind the police department and the local charter school, waiting in the parking lot of the Walmart off of Route 44.
When the church's teachings spiral out of control, some of Bethel's sharpest critics say, they can become dangerous — even deadly.
Piece by piece, Bethel and the School of Supernatural Ministry are trying to redeem Redding. But Redding isn't so sure it wants to be saved.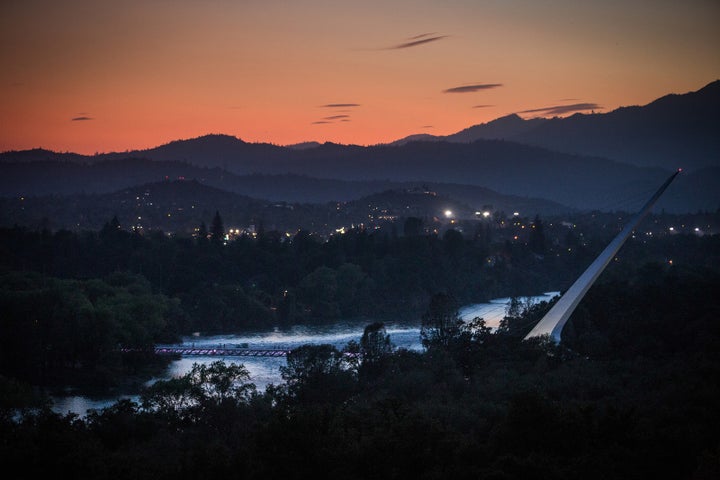 Downtown Redding, California, and its famous Sundial Bridge, Sept. 13, 2017.
Max Whittaker for BuzzFeed News
Globally, Bethel Church is mostly known for its Christian worship music — songs that tend toward the bland and inoffensive, but are wildly popular. Justin Bieber once told Cosmopolitan that a Bethel track called "No Longer Slaves" (now at 34 million YouTube views) was in his iPod's top three most-played, along with Lil Wayne and Drake.
But in Redding, the School of Supernatural Ministry and its budding prophets and faith healers are the face of Bethel. They're also a blunt, public, and near-constant reminder of just how far out of the mainstream Bethel is — and of the school's own far-flung ambitions.
The school began 20 years ago as a tiny operation: 37 students, most of them local. It now has 2,400. It is the country's largest importer of foreign nondegree students — 889 active visas in the first half of 2017, according to ICE data, double that of the next-largest school. Because it's unaccredited, it's not eligible for federal financial aid: Students pay $4,650 a year out of pocket. They can attend for anywhere between one and three years; most stay for one or two.
That still makes BSSM a cash cow for Bethel: It brings in around $7 million, almost 20% of the church's revenue, according to figures in The Rise of Network Christianity, an academic book on Bethel and other similar churches.
BSSM wants to grow even further. Earlier this month, the city of Redding approved a massive expansion: 3,000 students and a brand-new $96 million campus — one that, in modest Redding, would stick out like an Apple Store in a forest.
In a photograph from 2012 posted on Reddit, Kris Vallotton and Bethel Church's spiritual leader, Bill Johnson, stand in front of a group of neatly dressed young people who are kneeling before them, arms outstretched and palms raised. In Johnson and Vallotton's hands are swords, their long, gleaming metal blades resting on the students' shoulders. It's graduation at Bethel, and its students are being knighted.
More simply: Miracles are a really good way to convert people.
This is the Bethel School of Supernatural Ministry's real goal: creating spiritual warriors, young people who will go out into the world armed with just the kind of supernatural gifts that Bethel believes will bring people into the Kingdom of God.
"Jesus is bringing the Kingdom, and he's doing it through signs and wonders," says Dann Farrelly, BSSM's dean. "They're the things that make people go, 'Huh, there's something about you, about this.' Jesus even said: You don't have to believe in me, you believe in the signs I'm doing."
More simply: Miracles are a really good way to convert people.
BSSM is built on the idea that we are all "naturally supernatural": We all have the potential to heal the sick and to hear God's vision for the future. It's ours because it's Jesus's, says Farrelly: Jesus does the work, and humans act as conduits. The school's job is to foster the supernatural gifts of signs and wonders — to teach people to hear God's voice and turn it into prophecy.
Dozens of imitation supernatural schools — some of which borrow Bethel's philosophy, others its lectures and materials — have now spread globally. The idea of "church planting" is not a new one to evangelicalism. But Bethel has created its own version: supernatural school planting. A BSSM map shows Bethel-inspired and Bethel-connected schools dotting the globe, with schools that use a version of BSSM's curriculum popping up across the country, and in Nigeria, Saudi Arabia, Ireland, Hong Kong, and New Zealand.
"It's something that we've kind of coined," said Janelle Fite, who heads school-planting at Bethel. "None of us would have thought that our little school in Redding would have grown to the size it did. We never would have imagined."
Max Whittaker
Behind Bethel's rise is the enormous talent and ambition of the church's magnetizing leaders, Bill Johnson and Kris Vallotton, who cofounded BSSM in 1998. Depending on who you ask, Vallotton and Johnson are geniuses, false prophets, or both. What's undeniable is that with Vallotton at his side, Johnson, a fifth-generation pastor, has transformed a small, unremarkable local church into what Christianity Today called "a hub of a global revival movement."
Johnson has become one of the most high-profile apostles in a loosely connected and ever-multiplying group known as Independent Network Charismatics, or INC Christians, said Brad Christerson, a professor of sociology at Biola University and coauthor of The Rise of Network Christianity. Christerson calls INC Christianity, which is also known as New Apostolic Christianity, the country's fastest-growing religious movement — and Bethel, he says, "is at the center."
INC churches have no formal structure or governing body, something that allows them to grow and take risks in a way that many other churches, bound by formal rules and structures, can't. But that also means that INC churches have little accountability for their finances or their beliefs. Apostles often experiment wildly, and they encourage their members to do the same.
INC Christians don't care about planting churches, or even growing their congregations as large as possible, the way Joel Osteen did with his 52,000-person megachurch, says Christerson. Their sole mandate is to spread their apostles' beliefs — in Bethel's case, sharing testimonies and experiences of the supernatural by any means necessary.
There's the worship services broadcast worldwide through Bethel TV, a subscription service that, for as little as $8 a month (and up to $250 for a "season pass"), streams Sunday sermons and testimonies of healings and miracles, and Skypes hundreds of people into its healing sessions. Its conferences, with names like Kingdom Culture, Open Heavens, and Young Saints, draw attendances in the thousands.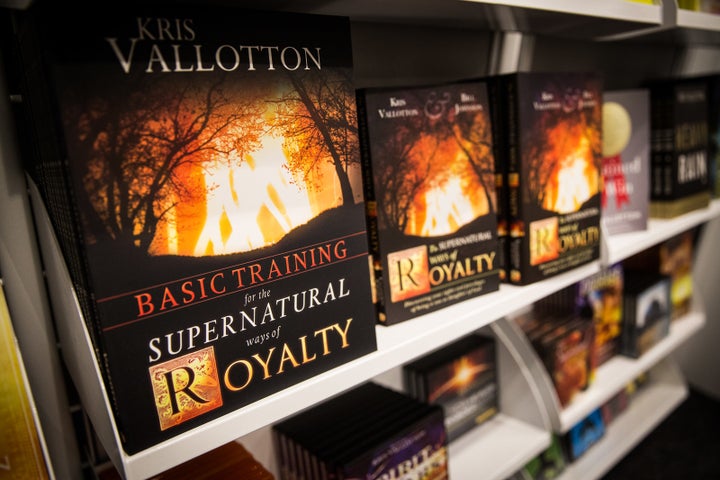 Workbooks by BSSM cofounder Kris Vallotton fill the bookstore at Bethel Church in Redding, California, Sept. 13, 2017.
Max Whittaker for BuzzFeed News
Vallotton and Johnson have each built their own brands, too, with sleek websites, dozens of supernaturally focused books between them, and gigs speaking at revival churches worldwide. The Bethel Church bookstore is filled almost wall-to-wall with Johnson and Vallotton's tomes, bright paperbacks with titles like The Supernatural Power of a Transformed Mind and Intentional Parenting: Kingdom Perspective on Raising Revivalists.
And then there is the gem of the operation: Bethel Music, whose dozens of Christian artists have made albums that sit at the top of iTunes charts and regularly bring in millions of viewers. Bethel Music's young musicians, some tattooed, all of them beautiful, sing songs that border on the hypnotic, their eyes half-closed, their bodies swaying until they are seized by moments of intense, doubled-over passion.
At Bethel's core is a deep, intense focus on young people. The church is highly internet-savvy, with a network of Instagram and Facebook accounts — each with hundreds of thousands of followers — that post high-quality, heavily-produced clips of songs, conferences, testimonials, and images of faith and revival. Laughing college kids fill the church'sInstagram stories daily, and its services are often led by young people barely out of their teenage years.
All evangelical churches are focused on bringing in young people. The difference is that Bethel is actually successful.