Every 4th of July weekend, the black women of America leave their homes and make the pilgrimage to New Orleans for an experience unlike any other. Friends, sisters, aunties, cousins, mother-daughter duos, and lovers fill the city, where they're the VIPs. This isn't an awards show or fashion week — those events can keep their exclusionary vibes and sample-sized models. Here, women of every shape create runways wherever they stride, and the only vibes that fill these charming cobblestone roads are good ones. Because on Bourbon Street, there are no velvet ropes, just red carpets made of spilled frozen daiquiris.
This is Essence Fest, the unofficial national convention of black-girl magic, making the Crescent City beam with the power of a full moon since 1994.
"Essence Fest feels like a homecoming to me and so many people, for so many reasons," Essence's editor-in-chief, Vanessa DeLuca, said three weeks before the 2017 festival kicked off. "Our audience can come to connect with one another, celebrate with one another, and just have fun in the spirit of community. That's different from other festivals where really the focus is the music."
Essence Editor-in-Chief Vanessa De Luca and Halle Berry onstage at the Essence Festival.
Paras Griffin / Getty Images
The festival is indeed one of a kind. It's the only place where you can see Ava DuVernay laughing out loud during an early screening of Girls Trip with Kofi Siriboe one day, and hear her open up about how he and the rest of the Queen Sugar cast supported her when her father died on the Empowerment Stage the next. It's for sure the only place where you watch Diana Ross make several costume changes without missing a note, cry with Mary J. Blige as she sings the soundtracks to her and your breakups, and then see Xscape reunite, before finally praising God for the whole experience along with Chance the Rapper as he closes out the weekend. It's also, without a doubt, one of the few times you're going to see Lawrence (Jay R. Ellis) and Daniel (Y'lan Noel) from Insecure walking together in harmony.
Essence General Manager Joy Profet at the festival.
Paras Griffin / Getty Images
"I used to go to Coachella and things on the West Coast, where it's a very mixed crowd, but it's nice to be in a place where you can embrace not just your music, but everything that being black really embodies, from natural hair to food to just celebrating your blackness," attendee Nesha Logan told BuzzFeed News, right outside the Great Hall where Sunday's all-star gospel tribute to Cissy Houston took place. "It's nice to be hosted by a brand and a city that actually celebrates that all year long and particularly has a festival that's actually geared towards us and bettering our community."
For 23 years, the Essence Festival, organized by Essence magazine, has provided a unique safe space for its audience to experience the things they love, with the people they love. It's become an annual tradition so deeply rooted in the community that you'd be hard-pressed to find a black woman in this country who doesn't know what it is, even if she's never attended. For many, it's an annual tradition between friends, à la Girls Trip; for others, it's a bucket-list goal, a journey to our very own mecca that every black woman knows she should make at least once in her life.
"We really felt that this was a year that we needed to make sure people understood the contributions from black women in particular."
"We do quite a bit of research on our audience, and we know that in her everyday life, she's giving so much of herself to others," explained Essence's general manager, Joy Profet, a week after wrapping up this year's fest. "It's within our DNA as black women, and some of it is within the historical evolution of who we are as black women, where we were trained and groomed to give so much of ourselves.
"Essence was specifically created to be a platform where we gave to her. We're not looking to take from her or to put more of a burden on her, but we just want her to come in a safe space – whether it's with her girlfriends, herself, if she wants to bring her family, it's up to her – but it's all about her. It doesn't matter what's surrounding her; she comes and she gets energized and she feels rejuvenated and she feels safe and comforted."
The need for a space that rejuvenates and comforts black women is especially vital in 2017, and the festival organizers took that into account. "We really felt that this was a year, coming out of the election, coming out of the Women's March, that we needed to make sure people understood the contributions from black women in particular — especially when we see a lot of black women, like Kamala Harris and Maxine Waters, for instance, being pinpointed and scapegoated by certain individuals who shall remain nameless just for being outspoken," said DeLuca.
Ava DuVernay at the Empowerment Experience event at the festival.
Amy Harris / AP
One of their efforts was turning their "Woke Women" list from Essence's May issue into the inaugural Woke Awards at the festival, which honored DuVernay and #BlackLivesMatter co-creator Patrice Coolers. They also had several women from that list educate and empower festivalgoers about how to navigate the current state of affairs.
"I find that I am actively seeking what I call safe spaces — where I can be among black people, especially black women, as much as I can," said #OscarsSoWhite creator April Reign, who was attending Essence Fest for the first year after being invited to be a part of the Woke Women panel. "That's why I go to the National Museum of African American History and Culture in DC and that's why things like Essence Fest are so incredibly important."
"You can be yourself, be free, wear whatever you want, wear your hair however you want, and just kind of be yourself and feel comfortable."
The fatigue from the events of this past year were in the air at the festival, as was the gratitude for a place we all knew we could go to retreat and recharge. "There's been so much negativity, people need a lift," said Mariatu Turay, owner of Gitas Portal, a contemporary African clothing company in London. She took part in the festival's marketplace, which allows vendors from black-owned businesses around the world to come and profit from the Essence Fest audience of about half a million attendees. "Our brand also is all about women empowering themselves, so I think having this space bringing black people together, and having these women grafting, that energy is definitely here."
The festival's electric concerts, dynamic interviews, and enlightening panels are just part of Essence Fest's uniqueness. What really makes it special are the connections and interactions between the attendees. It's that sense of sisterhood that makes it the biggest and longest-running safe haven for black women.
"You can be yourself, be free, wear whatever you want, wear your hair however you want, and just kind of be yourself and feel comfortable with everyone similar to you who understands you," said attendee Veronica Jones, who had just come from exploring the beauty booths at the convention center. "I live in a small town in Texas. Where I work, I'm one of two black people. So I enjoy it and being in NOLA, which is a city that's used to black people, so they're not shocked to see all of us here."
Essence Entertainment Director Cori Murray.
Paras Griffin / Getty Images
During the first weekend of July, the Big Easy and the fest itself become a playground of sorts that allows festival attendees to not only bring lifelong friends, but to make them there too. "You're going to be bumping into people, having adventures with people you don't know — that camaraderie is very real," said Cori Murray, Essence's entertainment director, in the weeks following the 2017 Essence Fest. "It's like a family reunion with people you don't know."
It's not uncommon to see a group of seasoned women dropping gems of wisdom to younger ones in between panels; to see old college friends run into each other unexpectedly at a concert; or to see a group of strangers doing the wobble together on the convention center floor. Even in the streets of NOLA, restaurants turn into one big party as various small squads pull their tables together and unite over their common mission: the freedom to just be.
"There's something about the sisterhood of it — all of us can just breathe," Murray said. "When I'm down there, I find myself spreading so much love because I feel that good. There's something that genuinely makes me happy about being around all those people and knowing that we're all there for the same purpose."
Marlon Wayans takes a selfie with fans at the festival.
Amy Harris / AP
Essence Fest is also a fun and safe space for the celebrities and influencers that grace the pages of the magazine and perform at the festival. They are just as much in need of the refuge the festival provides as the everyday women who attend are; they're not just at the fest to work, but to play and slay also.
Take the VIP lounge in the Superdome on Friday this year, for instance. There you could find Yara Shahidi literally bowing down to the cast members of Netflix's Dear White People in admiration and as a form of congratulations after it was announced that the show had been renewed for a second season. Then, she rushed off to see her TV mom's (Tracee Ellis Ross) real mother, Diana Ross, perform. Also in the pack of celebrities excited to see the original diva onstage? Tina Knowles, who had spoken earlier at the Empowerment Experience about the importance of money management and finance, and was comfortable being out and about — because this crowd knows better than to try to ask about Beyoncé's not-yet-announced twins or anything else too invasive. After all, she deserves to relax and have a good time too.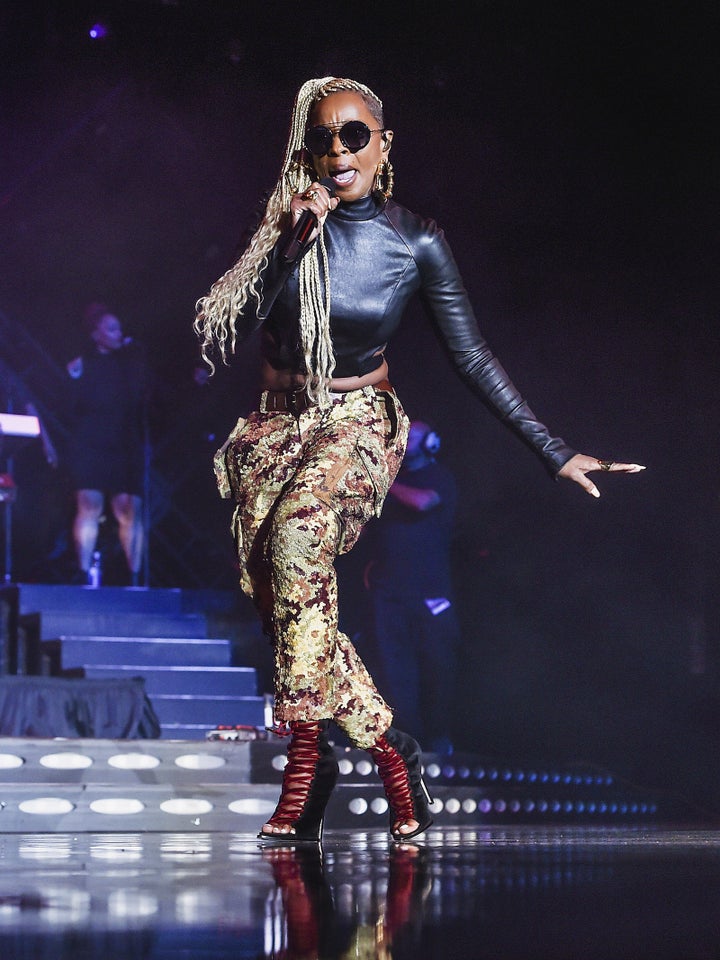 Mary J. Blige performs at the Superdome during Essence Festival.
Erika Goldring / Getty Images
Saturday, out in the audience, on the floor of the Superdome, you could find Queen Latifah singing her heart out as Mary J. Blige ran through her catalog of hits. It was clear that Blige, who has been performing at the the festival since the '90s, felt at home among her core audience as she started to open up about her recent divorce settlement in between notes. "How is it that someone can ruin everyone's life and I gotta pay for it?" she sang as the crowd shouted back things like "Sing, Mary!" "Take your time!" and "That's right, sis. Talk about it!"
Blige's set was part of a ladies-only night of performances called Strength of a Woman, curated by her — a first for both Blige and the festival itself. "We've been building a relationship with Blige since she performed at our first festival," said Profet, who noted that Essence gives Blige "the opportunity to really take her message around strength, empowerment, and women's rights and allows her a platform to bring that message to [Essence's] audience, which is also an audience that she's deeply passionate about." Profet added: "If you want to really see the essence and the authentic side of who Mary is, and you really want to see a show that's built on who she is and her authentic self, you come to Essence."
Jazmine Sullivan was one of the singers Blige tapped to be a part of Saturday night's show. The curated experience gave her the opportunity not just to sing in front of 45,000 people, but also to join the legendary Chaka Khan on stage — along with Blige, Lalah Hathaway, and Ari Lennox — to sing Khan's classic hit "I'm Every Woman."
Blige, Lalah Hathaway, Ari Lennox, Chaka Khan, and Jazmine Sullivan perform "I'm Every Woman" at Essence Fest.
Bennett Raglin / Getty Images
"Essence Fest is a celebration! For black people especially now — when our music, beauty, and culture are constantly being compromised to adhere to the masses — Essence unapologetically caters to what we as a people are drawn to," Sullivan told BuzzFeed News the week after her performance. "It feeds our souls and encourages self-love."
Blige also hosted an exclusive brunch, where she gathered a handful of influential black women across industries, and where she was honored with an Essence Icon Award. "Essence has given me so much strength through the years," she said during her speech. "Every time you called on me, it was a time when I felt like giving up. So, thank you for so many years of inspiration."
Solange Knowles' performance at the festival.
Bennett Raglin / Getty Images
The cast of HBO's Insecure also hosted a brunch for a melanin-filled group of friends, journalists, and influencers on Saturday that was, as its creator and star Issa Rae would say, hella lit. It started off with a special screening of the show's highly anticipated second-season premiere, followed by a Q&A with Rae, costars Jay R. Ellis and Yvonne Orji, and executive producers Prentice Penny and Melina Matsoukas, during which nothing was off-limits (not even Orji joking with Matsoukas about how she missed her calling as a porn director while talking about shooting sex scenes).
But like most of the celebrities in NOLA that weekend, the cast made sure to fit in some fun. They were on the floor of the Superdome on Sunday night rocking out to Matsoukas' bestie, one Solange Knowles, as she comfortably serenaded the crowd with lyrics made specifically for us, like "Don't touch my hair," and "You have the right to be mad." They stayed all the way through the five-hour night, which included a surprise performance from Mystikal — who Rae noted "could still get it, consensually" on her Instagram story — and ended with Chance the Rapper closing the festival out.
It's clear black celebrities feel especially comfortable at Essence. "It's the time of the year that you can be around people and truly feel camaraderie with, truly feel safe with, and are able to enjoy yourself around because it's that much fun," Survivor's Remorse star Tichina Arnold told BuzzFeed News. "It's given me a wonderful platform to meet the people who support me and meet the people who I fight for every day of my life."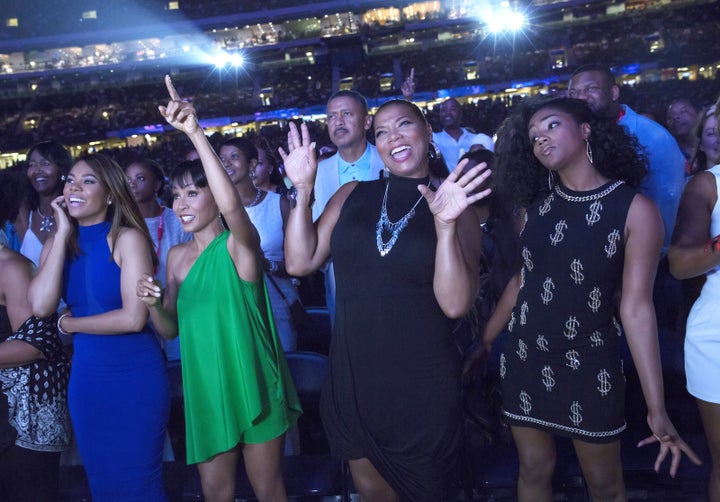 A scene from Girls Trip at Essence Fest.
Michele K. Short
Essence Fest takes center stage in Girls Trip: Lifestyle guru and author Ryan (Regina Hall) is asked to be a keynote speaker at the fest and decides to bring her three college friends — working mom of two Lisa (Jada Pinkett Smith), gossip blogger Sasha (Queen Latifah), and party girl Dina (Tiffany Haddish) — in an effort to repair their fractured friendship. Like many, the Flosse Posse, as they refer to themselves, used to make the festival an annual tradition, so where better to remind them of the bond of sisterhood?
"They're not like trying to behave a particular way because they're under the gaze of the male lens, or society's lens even."